Fear no more the heat o' the sun
Nor the furious winter's rages
Thou thy worldly task hast done
Home art gone and ta'en thy wages
Golden lads and girls all must
As chimney-sweepers, come to dust
Cymbeline – William Shakespeare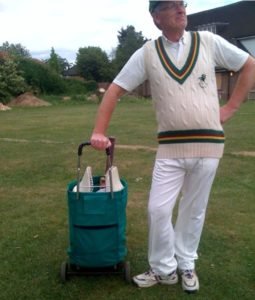 FOLLOWING THE SAD LOSS OF OUR DEAR FRIEND MIKE SADLER, JIM BARCLAY HAS PENNED THE TRIBUTE BELOW TO HIM
Dear All
I was very saddened to hear today of Mike's death at the hands of this dreadful foe: Covid-19.
In many ways, Mike was the quintessential Stage CC Cricketer. He loved the game and the idea of playing a proper full-length game of Cricket with a load of like-minded out-of- work thesps and fellow travellers on a Wednesday afternoon, somewhere down the far end of the Northern line, while the rest of the metropolis ran around like blue arse flies trying to earn a crust, was what Mike, like the rest of us, were all about. Tomorrow was another day, but today was Cricket.
I first met Mike in the early sixties when he and I played for Dulwich 3rd XI. He was quite a slippery left arm over man, then, with a shock of red hair. So it was quite a surprise, 30 years later, to find myself bowling in partnership with this salt and pepper bloke bowling steady, if not particularly penetrative, slow left arm at Montenotte one afternoon. The action had not changed but the surname had (as had my own!). Mike Archer of 1965 had become Mike Sadler of 1990. After we exchanged notes and bowling figures (probably 1 for 52 each!) we went and had a pint. I remember going home that night (Highgate to the Elephant) thinking what a good bloke was Mike. Unlike many club cricketers, he harboured few grudges, nursed few slights, and, on the rare occasions he felt he had been unfairly treated, he kept it to himself or laughed at the ridiculousness of it all, with a few well chosen sympathetic fellow travellers. He was always ready to pick up any admin job the Stage required and carried them all out with great efficiency.
It was in the year 2000, however, that I really appreciated Mike's talents. Mike Howarth, Mike Sadler and myself were charged, by the rest of the club, with the responsibility of putting together a Cricket revue for the millenial festival of Wandering Cricket Clubs in Oxford. Through a series of meetings and emails (still a relatively new innovation) the show began to take on a life. It was, however, when we started to "workshop" the show that Mike really came to the fore. Mike was a musician, and a singer, in addition to his formidable comedy acting skills. Mike gently coaxed and coached half a dozen board treaders, including both men from Del Monte, to become a slick song and dance troupe singing "Wides, Sixes and Fours" in close harmony to the Village People Anthem "YMCA". Mike was a masterpiece of tact and diplomacy. Mike, you done us proud.
He also gave a brilliant almost solo (Jeff Davis appeared as a mercifully wordless Headingley Moll) performance, that night, as the "professor": a man from the future, who had excavated an improbably shaped drinking vessel (i.e. a particularly unsavoury looking "box") from the soil, used by the ancient tribes of 2000 AD in rituals centring around the sacred "square".
Mike, we will all miss you and we are so sorry to see you go.
MIKE SADLER, R I P
CRICKETER, ACTOR, MUSICIAN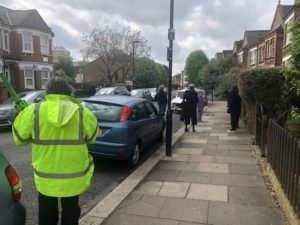 MIKE'S FAREWELL 29TH APRIL 2020
We said good bye in proper theatrical style with applause and tears.
It was just his body in the coffin, his soul lives on amongst us all.